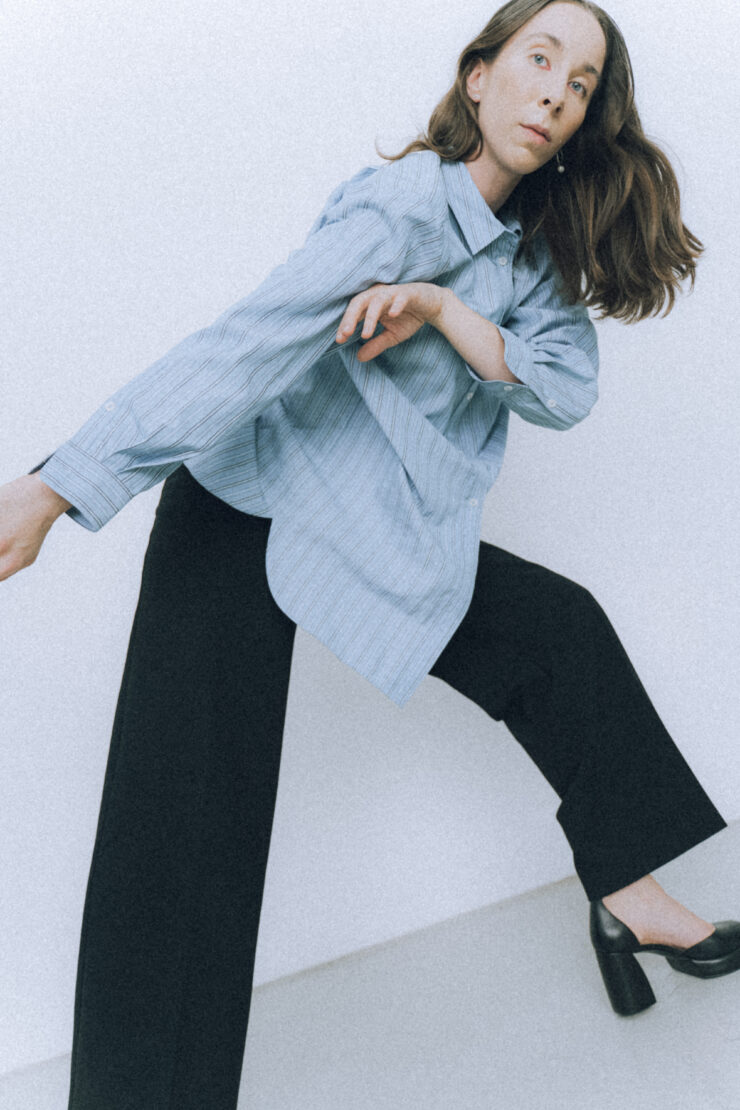 Alevtina Gruntovskaya
Artist with MA Dance since 2022
Alevtina Gruntovskaya graduated from Chernyshevsky State University in Saratov as a philologist and Vaganova Academy of Russian Ballet majoring in Artistic Practices of Modern Dance. She worked in the Contemporary Dance Theatre "Guildiya" (St. Petersburg, 2015-2016), Ksenia Mikheeva's project (St. Petersburg, 2017-2019).
In 2017 and 2019, she completed internships with the DASS (Dance Academy Season School) project in Tel Aviv and Amsterdam. She studied at master classes with Maria Kolegova, Germaine Jauregui, Dor Mamalia, and in the laboratory of the Humanhood dance company (Great Britain).
In 2018 she founded 9 a.m. Dance Company. Since 2022 she has been a choreographer and playwright of the Inclusive Troupe of Contemporary Dance and Performance of the Anton Tut Ryadom Foundation.
She participated in the following projects: The New Habit (Dom Radio, directed by Claudia Castellucci, 2021), Pulcinella (choreographer Nanine Linning, 2021), I Think it Seemed to You (GES-2, authors and directors Tatiana Chizhikova and Polina Bakhtina, 2022), Love Will Tear Us Apart (Dom Radio, choreographers Polina Mitryashina, Alya Gruntovskaya, director Anna Guseva, 2022), Lilac Pulsating Shine (SDVIG Performative Arts Space, choreographer Maria Sheshukova, 2022), Carl Orff's De temporum fine comoedia (Perm, Diaghilev Festival, musical director Teodor Currentzis, choreographer Anastasia Peshkova, directed by Anna Guseva). She created the mono-performance "Illusion" (2021), acted as a dance playwright in the inclusive dance performance "On the Way" (2021-2022).
She writes critical articles and gives lectures on modern dance. She teaches at Diana Vishneva's Context Studio. She is the curator of the educational programme "Theories About Practice: Reflection on Dance and Performance of the 20th and 21st Centuries" at Dom Radio.
YOUR "GO-TO BOOK"
James Joyce "Ulysses"
FAVOURITE CHOREOGRAPHERS
Yvonne Rainer, Meg Stuart, Noah Wertheim
A MOMENT OF INSIGHT
I'm 25, it's 6:30 in the morning, I'm in Rome, looking at the Trevi Fountain.
WHAT IS MOVEMENT FOR YOU?
It is a body that remembers its origins and roots, sees a part of itself in them, but does not exclude the present itself, supports what is in it today. It is poetic movement, or, if you like, the movement is poetry. It recognizes itself as rhythmic and at the same time free from conventions, generously shares knowledge and skillfully absorbs new things.
WHAT DOES MUSICAETERNA DANCE MEAN TO YOU?
It is a unique experience that happens to us. You know for sure that you are where you should be, and with those with whom it is important to be around. Here there is an opportunity to share and at the same time keep for yourself what others give. It is the boundless generosity of movement, sound, and their communication. It is the joy of meeting like-minded people, the joy of dancing together.
musicAeterna orchestra events