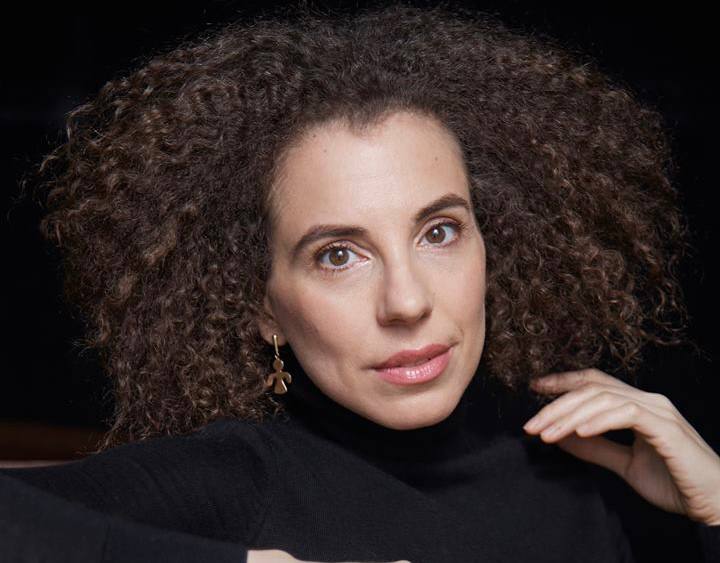 Sopranos
Eleni-Lydia Stamellou
In the choir since 2012
Eleni Lydia Stamellou is a soprano from Athens, Greece.
She is a member of musicAeterna created by conductor Teodor Currentzis. Her main focus is on Renaissance and contemporary music. As a soloist of the Perm Opera and Ballet Theatre in Russia and conducted by Teodor Currentzis she has sung Despina in "Cosi fan tutte", Belinda, First Witch, and Second Woman in "Dido and Aeneas", The Mirror of Three Graeae in "Nosferatu", Lilian Holiday in "Happy End", Danica in "Svadba", and Pierrot in "Pierrot Lunaire", as well as the main solo at the world premieres of "Tristia" by Phillipe Hersant and "Cantos" by Alexey Sioumak, along with "Coro" by Berio at the Diaghilev Festival.
Additionally, at the Perm Opera she sung Frasquita in "Carmen", Noemie in "Cendrillon", and "Fyodor" in Boris Godunov.
Moreover, she has sung the part of Second Woman in "Dido and Aeneas" at Teatro Real, the main roles in "Schneewitte" and "Schaf" at the national theatres of Mannheim and Oldenburg, Belinda in "Dido and Aeneas" in Fundacion Gulbenkian in Lisbon, Barbarina in "Le Nozze di Figaro" in Konzerthaus Dortmund, and Annina in "La Traviata" directed by Bob Wilson.
This year she has made her debut at the Salzburg Festival singing the fifth Sibylla in Carl Orff's "De Temporum Fine Comoedia" conducted by Teodor Currentzis and directed by Romeo Castellucci.
She has won the second prize at the Ferruccio Tagliavini vocal competition in Austria with Dame Joan Sutherland as the president of the jury and has attended master classes given by Teresa Berganza, Edda Moser, and Christa Ludwig. She has worked with the following stage directors: Romeo Castellucci, Bob Wilson, Peter Sellars, Teodoros Terzopoulos, Philipp Himmellmann, Matthias Remus, and Semen Alexandrovsky.
She has given recitals in all major halls in Athens, such as Herodus Atticus Ancient Theatre, Megaro Moussikis of Athens and Thessaloniki, Pallas, Athenaeum, Parnassos, Goethe Institute, and Synagogue, as well as in the biggest music festivals including Aigina, Mani, Santorini, Patmos, Zakynthos, Symi, Koroni. She has also given recitals in Germany, Spain, the USA, and Cuba.
She has released the album "A Time for Us" with music by Kurt Weill, Nino Rota, Jacques Offenbach among others. Having been awarded twice the scholarship of the Onassis Foundation, she has studied singing at the music academies of Freiburg, Vienna, Bologna, and Napoli, as well as acting at the Stella Adler Studio in New York and the Academy of Arts in Perm.
HOW HAVE YOU BECOME A MEMBER OF MUSICAETERNA?
I came to Russia from New York primarily for the sake of working with Teodor Currentzis, but also because I have always been drawn to this country. That is why when Teodor invited me to Perm after the audition, I accepted without a second's hesitation. Perm absolutely confirmed my ideas about life in Russia. It was here that I learned a lot, changed a lot internally, became more confident in myself.


IS THERE A ROLE YOU DREAM OF PERFORMING?
The piece that I would especially like to perform is La voix humaine by Poulenc, one of my favourite composers. There is not only brilliant music, but also an exciting plot, a well-written libretto — I greatly appreciate this in stage productions, including when I am a spectator. La voix humaine tells a very relatable love story, and recently I read it somewhere that Jean Cocteau's libretto turned out to be congenial to the composer — he saw there a reflection of his own experiences. For me, there is a lot of real and modern in this opera, it can definitely resonate with the audience.

The image of Carmen is close to me — I've always dreamed of singing this part. I remember when I was five years old and saw the opera on TV, I was very impressed with Julia Migenes in this role. In general, I would like one day to impersonate Carmen as she appears in the original book, and not in opera interpretations — an honest, sincere woman, not a diva.

Also, I have always been impressed by Eurydice, a character from ancient Greek myths. Her tragic disbelief reminds us how important true faith is, which has no logic and no fear.

HOW DO YOU WORK ON THE ROLE?
As a rule, I bring my own emotional experience to the role, if I have experienced something like this before, and if not, I try to put myself in the shoes of my heroine using my imagination. However, there is a limit to everything: if the image is associated with themes that are too personal and emotions that are too strong, I keep it inside and do not convey it on stage.
IS THERE A PLACE YOU LIKE TO COME BACK TO?
My favourite place is a Greek island with a beautiful beach, where I come back and recharge my batteries. I love my hometown, Athens. I like Freiburg and Bologna, the cities where I studied. Venice is also very dear to me and, of course, I am glad to return to the places where I happened to live: New York, Perm, Naples, and Vienna.
WHAT ARE YOUR FAVOURITE FILMS?
Perhaps, my favourite film is Roman Polanski's Dance of the Vampires: it has amazing characters, atmosphere, and music. Among my favourites there are also The Exterminating Angel by Luis Buñuel, Only Lovers Left Alive by Jim Jarmusch, The Word by Theodor Dreyer, The Banshees of Inisherin by Martin McDonagh, Alice in the Cities by Wim Wenders, and Breaking the Waves by Lars von Trier.
WHAT KIND OF MUSIC IS ON YOUR PLAYLIST RIGHT NOW?
Among the last songs listened to there are Simply Red by Grandmas Hands, High by the Beach by Lana Del Rey, Bad Guy by Billy Eilish, as well as Lovesong by The Cure and Beggin by Norwegian duo Madcon.
musicAeterna choir events
+
Carl Philipp Emanuel Bach (1714 – 1788)
Magnificat for soloists, choir and orchestra, Wq 215, H.772 (1749)
Wolfgang Amadeus Mozart (1756 – 1791)
Krönungsmesse for soloists, choir and orchestra No. 15, in C major, K. 317 (1779)
Exsultate, jubilate, motet for soprano and orchestra K. 165 (1773)
The musicAeterna Orchestra and Choir
Guest soloists and musicAeterna Choir soloists
Conductor – Dmitry Sinkovsky
+
Carl Philipp Emanuel Bach (1714 – 1788)
Magnificat for soloists, choir and orchestra, Wq 215, H.772 (1749)
Wolfgang Amadeus Mozart (1756 – 1791)
Krönungsmesse for soloists, choir and orchestra No. 15, in C major, K. 317 (1779)
Exsultate, jubilate, motet for soprano and orchestra K. 165 (1773)
The musicAeterna Orchestra and Choir
Guest soloists and musicAeterna Choir soloists
Conductor – Dmitry Sinkovsky
+
Alexey Retinsky (b. 1986)
"Ty — likami tsvetov" [You Are in the Faces of the Flowers]
Mystery for Choir and Orchestra (2023, world premiere)
Sergei Rachmaninoff (1873 – 1943)
Vespers for viola, tenor and mixed choir, Op. 37 (1915)
The musicAeterna Choir
Conductor – Teodor Currentzis